Director of National Center of Meteorology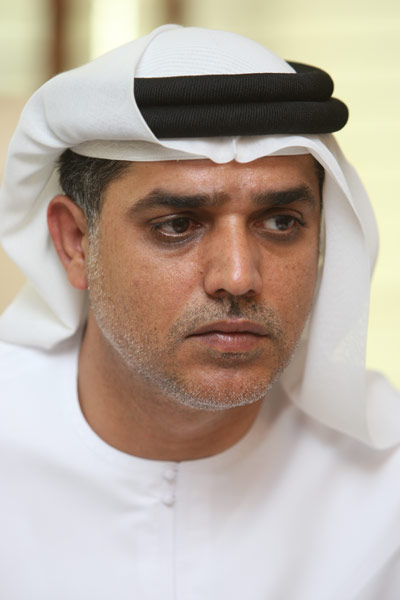 Abdulla Ahmed Al Mandous
Director of the National Center of Meteorology, and Permanent Representative of United Arab Emirates with WMO.
President, WMO Regional Association II (Asia).
Member, Executive council, World Meteorological Organization
Past Chairman of Permanent Committee for Meteorology of the League of Arab States.
National Center of Meteorology, NCM
PO Box 4815, Abu Dhabi, United Arab Emirates
Academic Qualifications
Ph.D. meteorology, The University of Belgrade, Serbia, 2012.
M. Sc. meteorology, The University of Witwatersrand, South Africa, 2005.
B. Sc. Meteorology, the University of Saint Louis, USA, 1989
Work Experience
2008 – Current Executive Director of the NCMS and PR of UAE with WMO;
2004 - 2007 Director, Atmospheric Studies;
2000 -2004 Deputy Director, Water Resources Studies Department;
Deputy Director, National Project of UNDP for Water Sources Studies;
Director, Precipitation Enhancement Program;
1999 -2000 Chief of weather forecasters;
1990 - 1999 Weather forecaster
Key professional Achievements
Modernizing infrastructure of NCMS and establishing a national Meteorological and Seismic networks in UAE;
Establishing climatological and seismic data bases for UAE;
Restructuring NCMS with emphasis on improving human resources;
Launch the Global United Arab Emirates Award for Weather Modification;
Issuance monthly and annual weather reports in UAE for the first time;
Preparation the seismic catalog of the United Arab Emirates;
Development a high-accuracy NWP Program for UAE;
Acquiring ISO certificate ISO-9001/2008 in April 2010 for NCMS
Developing a strategy and action plan for the NCMS for 2010-2013; Memberships of Local Entities, National Center of Meteorology's Member Council of Trustees, Member of National Crises and Emergencies Management Committee, Member of UAE Society for Aviation, Member of Meteorology Committee at Abu Dhabi Polytechnic University.
HONORS
Certificates of Appreciation
Certificate of Appreciation from HH Sheikh Mansour bin Zayed for managing the Weather Modification Emirates Award; Kuwait Liberation Medal from HH The Emir of Kuwait; Certificate of Appreciation from the National Center of Atmospheric Research, NCAR; Numerous Certificate of Appreciation from National and regional entities in recognition of support of meteorology-related activities and initiatives Regional and International Engagement Establishing a Weather Radar Network for GCC countries, Production of Arab Climate Atlas, Numerous agreements and MOUs with international organization (such as EUMETSAT, NCAR, DWD.. and others) aiming at developing NCMS.

PUBLICATIONS:
Co-Authored Spatial & Seasonal Variations of Cloud Condensation Nuclei and Aerosols over UAE
Precipitation Characteristics of Clouds in the United Arab Emirates
A Sustained Environmental Assessment Program in Southwest Asia
Characteristics of Atmospheric Aerosols over the United Arab Emirates
UAE Air Chemistry 2001-2011, in cooperation with NCAR
Dust Sources Affecting UAE 2001-2011