Sub-Committee for Media of the Standing Committee for Meteorology, League of Arab States At its first meeting, Abu Dhabi: 27-28 / 1/2016
The kind invitation of the United Arab Emirates represented by the National Center for Meteorology and Seismology held Committee of the Arab Committee for Meteorology media Ajtmaha first in Abu Dhabi on 27-28 January 2016 with the participation of members of the Committee of Arab countries in addition to the representative of the General Secretariat of the League of Arab States, Regional Office Director for Western Asia of the World Meteorological Organization.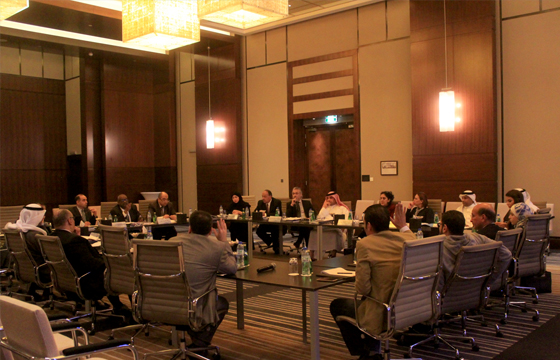 The meeting discussed the issues in the agenda of the following:
Put the guided steps to publicize meteorological activities at the national and regional level and the activities of the Permanent Arab Committee for Meteorology as well as an action plan for the development of the Arab Meteorological facilities media and the development of the relationship between weather and media facilities, and a joint meeting between the committee members and representatives of various media held to discuss supporting and developing the concept of partnership between the media and the Arab Meteorological facilities in sustainable development issues, and the importance of the development and study of successful experiences in this regard.
The Committee concluded at the end of the meeting to the following recommendations:
1. give thanks and appreciation to the UAE for hosting the meeting and the warm reception and organization.
2. Work on continuous coordination between the members of the Committee for the Development of media abilities and performance upgrades.
3. Following the adoption of the text and included in legislation (document draft law / legal instrument) for meteorological services in each Arab country to preserve the interests and rights of the Arab Meteorological Services:
"National Meteorological facility is the only official within the State for the provision of meteorological services, climate, or any of the Anazareawalta may other national sectors by providing, and considering it as a" national authority "in cases of issuing warnings.".
4. urged those responsible for Met in the Arab countries to intensify efforts in the delivery of meteorological information to the public and take advantage of various media in that
5. take advantage of modern technology to provide meteorological information to the public
6. Work on the simplification of weather forecasts in line with the media so that it reaches the largest possible segment
7. invite the media to take the meteorological information from the authorities authorized to do so.
8. demand from official and local media to help in the reduction of the rumors relating to weather and climate.
9. emphasize that the labels that call phenomena severe weather is from the jurisdiction of the World Meteorological Organization.