UAE Minister of Energy Suhail Al Mazrouei Leads High-level Delegation to the National Center of Meteorology & Seismology
Abu Dhabi-UAE: 4 April 2016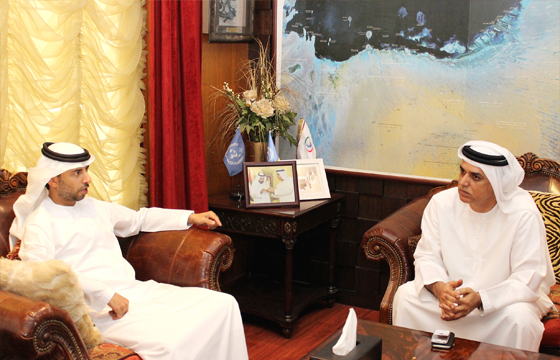 His Excellency Suhail Mohamed Faraj Al Mazrouei, UAE Minister of Energy, led a high-level delegation visit to the headquarters of the National Center of Meteorology & Seismology (NCMS) to gain first-hand updates on the UAE's efforts in driving cloud seeding operations managed by NCMS.
Dr Abdullah Al Mandoos, Director of NCMS, welcomed the delegation. Omar Al Yazidi, Director of Research, Development and Training at NCMS, offered a presentation of the solutions, innovations and best practices implemented to resolve water security challenges in the UAE and other arid and semi-arid regions around the world. In addition, the delegation attended a session on cloud seeding operations and gained insights into the cloud seeding operations handled by NCMS, since its inception in 2001.
Dr Abdullah Al Mandoos walked the delegation through the Center's facilities, considered among the most advanced in the Middle East. Comprising more than 70 networked automatic weather stations, NCMS includes nine seismic monitoring stations, seven air quality stations, six
radars and five satellites, as well as five cloud seeding aircrafts. Dr Al Mandoos praised the unwavering support of His Highness Sheikh Mansour bin Zayed Al Nahyan, Deputy Prime Minister of the UAE and Minister of Presidential Affairs, in routinely following up on the Centre's efforts and progress.
During the delegation's visit to the Meteorological Department Prediction Center, Director Yossef Kalbani highlighted the process of mapping, studying data and dealing with numerical models to enable forecasters to better predict weather conditions.
Eng Khamis Al Shamsi, Director of Earthquake Administration, then guided His Excellency Suhail Al Mazrouei through the earthquake management building. During the tour, the ministerial delegation examined the procedures used for monitoring and analyzing seismic activity throughout the UAE and beyond.
Reflecting specifically on the achievements of the UAE Research Program for Rain Enhancement Science, the Minister of Energy said: "The Program plays a leading role in addressing and alleviating the economic and social impacts of water scarcity in arid and semi-arid regions and will provide remarkable improvements in the field of rain enhancement globally.
He added "the UAE Research Program for Rain Enhancement Science also contributes to the promotion of excellence and capacity building in the field of water sciences, in line with the National Innovation Strategy of the UAE".
His Excellency stressed the urgent need for international collaboration to support the strategies and plans of the UAE leadership. He later explained that the Ministry is currently working with partners from the electricity and water agencies concerned with water resources to develop a broader national water security strategy in 2036, expected to be completed in the fourth quarter of this year.
For his part, Dr Abdullah Al Mandoos noted: "This is an important day at NCMS. We look forward to exploring new initiatives and collaborative synergies with the Ministry of Energy as well as other ministries and public sector institutions in the country towards leveraging our technologies for the greater good of the UAE."