Al Mandoos the new President of WMO Regional Association for Asia (RAII)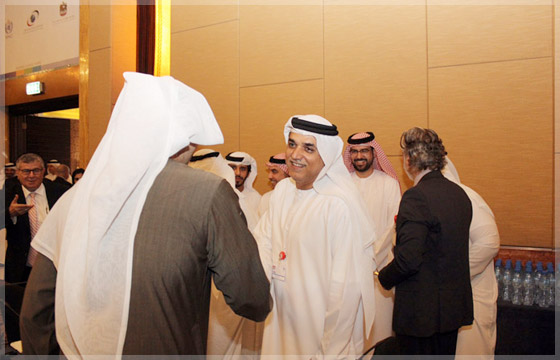 Abdullah Ahmed Al Mandoos, Director of the National Center for Meteorology and Seismology of the United Arab Emirates, is the new president of the World Meteorological Regional Association for Asia (RAII).
Dr Al Mandoos was unanimously elected at the RAII session in Abu Dhabi. He succeeds Dr Abdullah Mohammed Al Mannai, Permanent Representative of Qatar to WMO. Rishi Ram Sharma, Permanent Representative of Nepal to WMO, was elected vice president.
"I greatly value this trust you have put in me and, with God's help, I hope I will be up this level of trust," said Dr Al Mandoos. "It is not a victory but a responsibility you have put in my hands with regards to all the people in this region."
"The Regional Association for Asia has a wide geographical surface area, many climatic regions, severe weather conditions and natural disasters that are repeatedly witnessed," he said. "Many parts of the Region have a high density population and live in fragile infastructures," he said.
"It is natural we take these facts into consideration in every step we take. The character of this region means I have to listen to your opinions and translate your instructions."
Dr Sharma, the new Vice President, said that his experience in Nepal – a mountainous, resource-poor country – would complement that of Dr Al Mandoos.
Saudi Arabia: Saudi Arabia would like to congratulate the new President and Vice President and we wish them much success. We will be assisting them hand in hand in bearing the responsibility.
Kuwait. "It is my honor to congratulate Dr Al Mandoos. He has been known as a positive participation in national, regional and Gulf Arab state meetings. We wish him to achieve all the successes that we aspire to in our services both regionally and internationally. We will give all the positive assistance to ensure that he achieves success for national meteorological and hydrological services.
Iraq. "Dr Mandoos deserves this status as we have seen a lot of positive reaction with the meteorological community. We will be supporting them with all the support we can give them."
Bahrain. "The election of Dr Mandoos is not surprising as he loves his work and the meteorological service."
Ivan Cacic, President of Regional Association VI (Europe)
"Welcome to the club of presidents of regional associations. I look forward to close regional collaboration."
WMO President David Grimes: "I would like to congratulate Dr Al Mandoos for taking up this leadership. It is the most populous region and largest region. It has challenges in diversity, scope and climate. This particular challenge for the President in RAII is to bring the community together. I look forward to his excellent leadership and excellent contribution to the WMO Executive Council and other processes in which RAII participates."
The agenda includes how to develop traditional weather predictions into impact and risk-based forecasts and warnings, how to expand these to cope with multiple hazards, and how to incorporate these into a common planning framework to maximize the benefits.
"The primary responsibility of National Meteorological and Hydrological Services is to provide timely and accurate forecasts and warnings. But in order for governments, economic sectors and the public to take appropriate action, they need to know the impact of these meteorological hazards on lives, property and the economy," said Mr Taalas.
"Multi-hazard, impact-based forecasts and warnings are complex and require planning and forging of partnerships at many levels and with many government agencies and stakeholders – disaster managers, urban planners, education authorities, and health authorities,," said Mr Taalas.
"The capabilities of WMO Members need to be upgraded and strengthened on a continuous basis to cope with the optimum delivery of new services to inform decision-makers, ranging from day-to-day operations to much longer timescales," he said.
The Regional Association for Asia meeting is preceded by a two-day conference on management of meteorological and hydrological services, which will share national experiences and regional priorities. Both events are hosted by the Government of the United Arab Emirates.