WMO Regional Association for Asia session opens in United Arab Emirates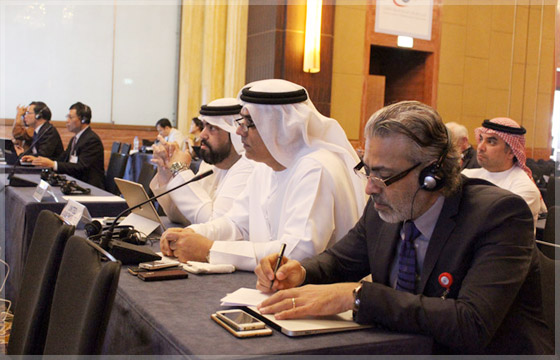 Focus on better weather forecasts and early warnings to reduce disasters
The World Meteorological Organization's (WMO) Regional Association for Asia opened its four-yearly session on Sunday with warnings that the region – which stretches over high mountains and low lying coastal plains from the Arctic to the Equator – is exceptionally vulnerable to extreme weather, climate change and water shocks.
The session is taking place in Abu Dhabi and is hosted by the Government of the United Arab Emirates. It will focus on how to improve observations and forecasting of high-impact weather events and environmental hazards like sand and dust storms.
The opening ceremony was addressed by Dr Abdullah Ahmed Al Mandoos, Director of the National Center of Meteorology and Seismology and Permanent Representative of the United Arab Emirates to WMO.
He said that hosting the session would enable the United Arab Emirates to increase mutual cooperation with other countries in Asia. This included experience from the UAE's $5 million annual grant to support scientific research into rain enhancement science.
"Most WMO Members in Asia suffer from drought and so the United Arab Emirates support for research into weather modification is highly valued," said WMO Secretary-General Professor Taalas.
Prof Taalas paid tribute to the United Arab Emirates for hosting the Regional Association session, and other WMO meetings.
Disaster-prone
WMO's Regional Association for Asia groups 35 Member States and territories across a variety of geographic and climatic zones. It includes some of the world's most densely populated cities, which are often in coastal zones exposed to risks from sea level rise and more intense tropical storms. Environmental hazards, especially air pollution and sand and dust storms, add to the challenges.
"Our Asia continues to be the most disaster prone region. South Asia accounted for a staggering 64 percent of total global fatalities. South East Asia is also another major disaster prone sub-region," said the outgoing Regional Association for Asia President, Abdulla Mohammed Al Mannai, Permanent Representative of Qatar to WMO.
He said the 2015 earthquake in Nepal, which killed more than 8,000 people, as well as devastating floods in China, the Indian city of Chennai and Thailand, were all a "wake-up call" to risk-prone countries throughout Asia to build and maintain resilience to such catastrophes.
"The multitude of disasters in the region clearly highlights the need for cooperation, including in the establishment of multi-hazard early warning systems, at both national, sub-regional and regional levels," Mohammed Al Mannai told the opening ceremony.
"The estimates of cost benefit ratios of early warning systems can potentially generate billions of dollars in benefits in terms of reduce losses, particularly for weather sensitive sectors such as agriculture," he said.
The meeting, which lasts until 16 February, will look at how to improve weather and climate service delivery, including early warnings and weather forecasts which factor in risks and impacts. These are especially important for weather sensitive sectors like agriculture and aviation, as well as for disaster management.
Extreme weather and water stress
WMO President David Grimes said that WMO was paying increased attention to challenges posed by urbanization and growing numbers of people living in coastal areas. A particular issue for the Asian region were water hazards – ranging from drought to flash floods when too much rain falls in a short space of time, he said.
"In the last decades, the countries in the Asian region have been exposed to weather and climate events of increased intensity and frequency," said Mr Taalas. "The year 2016 was no exception."
India, Iraq, the Islamic Republic of Iran and Kuwait all saw peak temperatures of more than 50°C last summer. Many other parts of Asia also saw heatwaves.
The year 2016 was the hottest on record. Global average temperatures crossed the threshold of being 1 degree Celsius above the pre-industrial era. Levels of carbon dioxide in the atmosphere also passed the threshold of 400 parts per million – which means that global warming will continue for many generations because carbon dioxide lingers in the atmosphere for centuries and in the oceans for even longer.
"We have seen unusual patterns of sea ice in the Arctic and Antarctic. These changes at high latitudes have impacts outside the region. Some unusual weather patterns in this part of Asia may be linked to the Arctic changes," said Prof Taalas. "What happens at the Poles does not stay at the Poles."