Abu Dhabi hosts the meeting of the Climate Committee of the World Meteorological Organization
Abu Dhabi, April 2, 2019, Under the theme "Capacity Development for Better Climate Services", the meetings of the WMO Climate Committee started today at the headquarters of the National Center of Meteorology in Abu Dhabi. The Convention Establishing the World Meteorological Organization (WMO), signed in 1950, recognizes that Member States need to work with each other and with other organizations to coordinate, standardize, improve, encourage competencies and exchange information to suit their application to the needs of society.
For his part, Dr. Abdullah Al-Mandous said that the capacity of NMHSs to play their role in national monitoring, data collection and service delivery depends on the infrastructure and human resource capacity available to them, which called on the World Meteorological Organization to consider national capacity development as a strategic priority Quality of these services.
The Climate Committee, Technical Committee, has adopted the development of these capacities to improve climate services, including climate data management, climate monitoring and forecasting, and delivery of relevant products to end-users within the highest standards of quality management. The Committee emphasized that capacity development was one of the major pillars of the Global Framework for Climate Services, which explicitly addressed the capacity of institutional, infrastructure, procedural and human resources. The Committee noted that, in order to develop the capacity of NMHSs in terms of infrastructure and human resources qualified to provide better climate services, they should consider the existence of development agencies and regional organizations at the national level and find synergies and coordination with them, particularly with regard to training and other activities related to Link.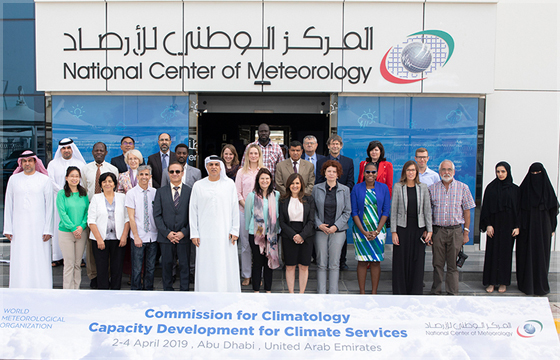 The meeting, Added Dr. Mandous which includes some 30 international experts from around the world as well as experts from the World Meteorological Organization (WMO) and climate experts at the National Center of Meteorology (NCM), was held to discuss several important topics, including: advice on capacity development for climate services To contribute to the support of the Global Framework for Climate Services and the provision of training materials to facilitate the implementation of quality management of climate services in NMHSs, as well as the preparation of the Manual on Good Procedures for the Conservation of Climate Information and Data , Develop guidance on improving efficiency and improving performance standards in the provision of climate services, as well as providing advice on curricula and training modules for climate science to be used by regional training centers in coordination with the WMO Education and Training Program, and advice on best communication skills and climate information policies in coordination with Secretariat of the Organization and its working bodies.