National Centre of Meteorology and Seismology studying the best sites for monitoring air quality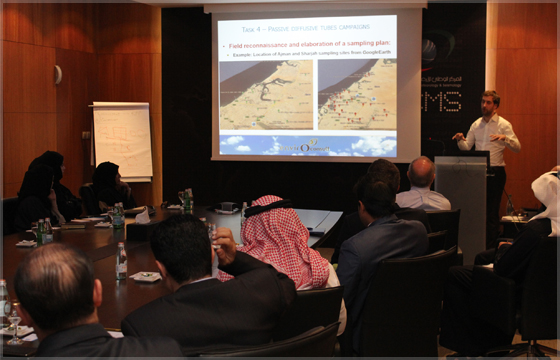 The study and the monitoring of the Air Quality is of primary concern regarding its potential health and environment impacts.
The National Center of Meteorology and Seismology (NCMS) is the national organization in charge of the implementation of the air quality policies at national level, with competences in the elaboration of common guidelines, the study of air quality and the collection and interpretation of data from the different AQMN operated in the Northern Emirates. These competences are used in order to obtain objective, reliable and comparable information on the air quality overall territory. This makes it possible to take the requisite measures to protect the environment, to assess the results of such actions and to ensure that the public is properly informed about the state of the air quality.
In 2013-2014, NCMS had conducted a large air quality assessment study for the United Arabic Emirates in partnership with the International consulting firm expert on Air Quality and Climate Change issues, and with the local support of local company.
Based on the actual air quality-monitoring network deployed in the Northern Emirates, the aim of this project was to contribute to get a better understanding of:
The levels of the main pollutant concentration in the 5 Emirates,
The possibility of optimization of the actual Air Quality monitoring network
The future development of this network.
The four steps methodology has been setting up in compliance with international guidelines and regulation, taking into account the main pollutants, emission sources and the local urban development context of each Emirate, through:
A preliminary evaluation and field recognition to:
Identify the main emission sources (residential, traffic, industry…) on each Emirates territory, Perform the audit of the current Air Quality Monitoring Stations Network (eight stations)
A large scale sampling campaign with deployment of passive diffusion samplers on 100 sites with high focus on the indicative annual concentrations of 4 pollutants: nitrogen dioxide, sulphur dioxide, ozone and benzene.
The analysis and interpretation of the results, including geostatistic mapping.
Recommendations for the optimization of the network, best locations for additional monitoring stations and further studies.
The NCMS invited a large number of partners from other entities and municipalities, to attend the workshop at NCMS headquarters, which started by a comprehensive presentation illustrated the main results with recommendation regarding level of pollutants measured, mitigations strategies, practices harmonization and air quality monitoring network optimization which presented by the Air Quality Expert from the International French firm, followed by presentations on the latest instruments and networks monitoring air quality from several local companies.